STRUCTURAL PROJECTS 
Salt Storage Facility, Orrville, Ohio

Engineering Associates, Inc. prepared construction plans for a 40' x 50' salt storage building with a capacity to store approximately 500 tons of salt. The storage facility utilized a corrosion resistant pre-engineered aluminum truss arch roof with a fabric membrane and reinforced concrete foundations, floor and walls. Engineering Associates, Inc. performed site design and structural design of the foundations for the facility.
OARDC Discovery Pavilion, Wooster, Ohio

Engineering Associates, Inc. prepared construction plans for a 16-sided timber educational pavilion structure for the Ohio State University Ohio Agricultural Research and Development Center located in Wooster, Ohio. The structure has an interior dimension of 26'-0" face to face of treated timber posts. The use of many different types of wood both for structural and aesthetic purposes was part of this project. The structure is free-standing with no interior supports. All roof members lead up to a compression ring member at the top where a 16-sided cupola is supported on top of the compression ring to form the peak of the structure. The structure is used by the Research Center to educate visitors on the subject of phenology (the study of periodic plant and animal life cycle events and how these are influenced by seasonal and inter-annual variations in climate).
Eastwood Wastewater Collection and Treatment System, Wayne County, Ohio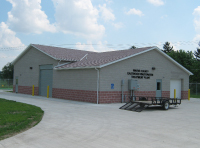 Engineering Associates, Inc. provided services including the preliminary report, detailed design, construction administration, and construction observation of sanitary sewer collection system improvements and new wastewater treatment plant. The treatment plant consisted of a 160,000 gallon per day membrane bioreactor plant with UV disinfection, and phosphorus removal inside a building. Engineering Associates, Inc completed the structural design for this building that includes reinforced concrete for the floors, basement and treatment tanks. Funding for this project included the Ohio Public Works Commission and USDA Rural Development. The construction cost was $2,640,000.